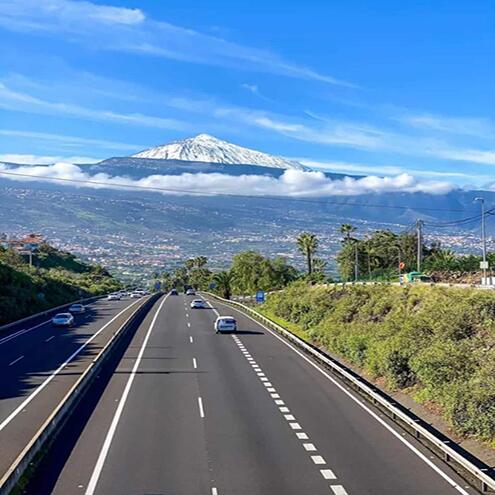 Here is our first Newsletter of 2022.
We are pleased to report that everyone is busy on the island and after battling with strong winds and calima recently, the sun is shining again and all is well in Tenerife.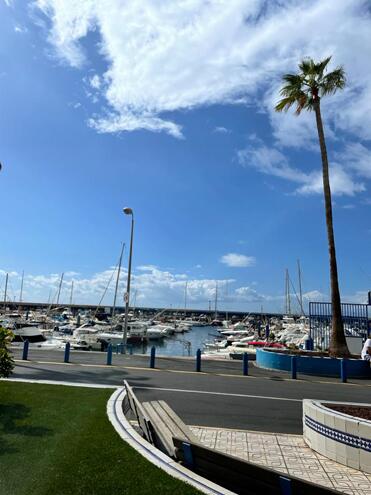 Property sales have kept us busy over the recent weeks, and things seem to be settling down to some sort of normality. It's good to see familiar faces back on the island, with everyone enjoying their favourite restaurants, bars or just relaxing on the beaches.


Demand for property is on the increase, and for those of you who are thinking of selling, now would be a good time !
Let us know if you would like any advice or help in marketing your property, we are here to assist.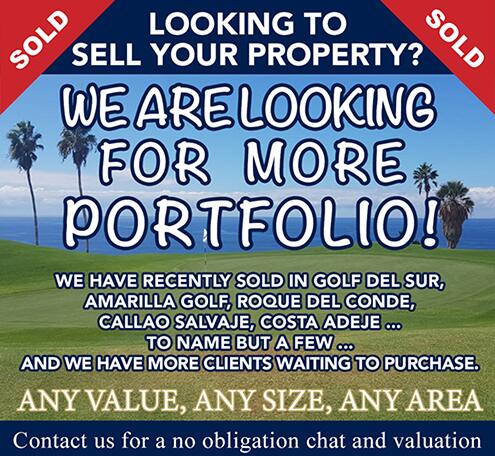 Recent meetings have shown that Developers are taking an interest in constructing new developments once again, which augurs well for those of you interested in new builds.  Let us know if you fall into that category and we will keep you informed as talks progress.
There are some interesting one bedroom properties available on a well established development, don't leave it too late or all the best positioned ones will have gone.

Click here to view more Recent Additions

Take a look at the property below, this has just been reduced by €30,000. Contact us for further information.


So, what's new this month?
February is well underway and in Tenerife a new month brings changes to travel rules, restrictions, events, laws, and other important matters that affect life here on our beautiful island. Here are some newsworthy items for February 2022 that you may find interesting.


The return of our Carnival.
Bit by bit we are seeing the annual festivals and ceremonies returning to the streets of Tenerife. It has been two years since we have been able to host our Carnival. Some cities around Spain have decided to continue to embargo this highly popular February event, but in Tenerife we can see that the dust sheets are starting to come off the floats and the groups of performers are preparing.
However, for the time being, Tenerife is still playing it safe to help prevent the spread of the Omicron variant and as a result, our famous February carnival has been postponed for the time being and now expected to take place in June.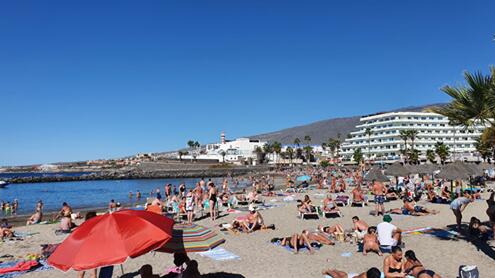 New UK-Spain travel rules.
February 11th will mark the end of testing requirements for fully vaccinated UK-bound travellers, including the post-arrival Day 2 tests that travellers from Spain had previously been forced to pay for.
From 1st February, Spain changed its travel rules. UK tourists heading to Spain who completed their initial Covid vaccination more than 270 days prior to travel to Spain, will have to show proof of having received a booster jab to be allowed to enter the country.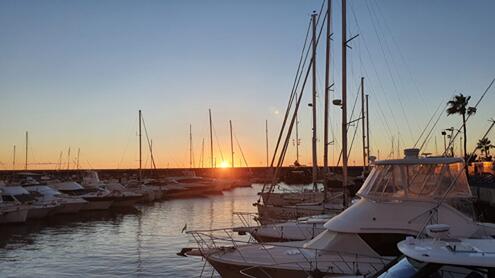 Changes to travel rules and Covid certificates.
Being fully vaccinated against Covid-19 will no longer be enough for many international travellers to visit Spain from the 1st February 2022.
Spanish authorities have followed the EU's recommendations to Member States and updated the country's travel rules regarding Covid-19 health passes and required vaccinations. The main change is that if you completed your initial Covid-19 vaccination more than 270 days ago (around 9 months), you will need to show you have had a Covid booster shot to be able to visit Spain. EU Digital Covid Certificates which are older than 9 months will cease to be valid for travel in Spain unless they show a booster shot.
However, EU citizens, foreign residents of Spain, Spanish nationals and other categories are exempt from having to show proof of a booster shot to enter the Spanish territory, even if they were fully vaccinated more than 270 days ago.
New antigen test rule
From the 1st February, people travelling to Spain who need to take a Covid-19 test to enter the country will have to get tested within 24 hours before their arrival in the country rather than 48 hours if they choose an antigen test.
This currently affects unvaccinated travellers from EU/EEA nations as well as Spanish residents and nationals who haven't had any Covid-19 doses, and several third-country categories relating to essential travel. Unvaccinated travellers from the majority of non-EU/EEA countries cannot visit Spain.
Changes to the wearing of face masks.
The Spanish government has decided that wearing a face mask in outdoor public spaces will no longer be compulsory and plans to approve a decree to this effect which came into force on 10th February.
However, as has been the case since summer 2020, masks still need to be worn outdoors in situations where keeping a minimum distance of two metres from the next person is difficult or impossible. The only exception is on bar and restaurant terraces.

LUXURY PROPERTY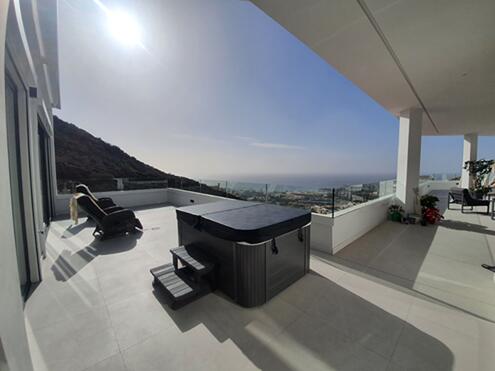 Spain's economy surpasses expectations.
Spain's economy grew by 5.0 percent in 2021, showing a remarkable bounce-back from a year earlier.
This exceeded the expectations of the Bank of Spain and the OECD, which were both estimating growth of 4.5 percent and it also exceeded the expectations of the International Monetary Fund (IMF), which had expected the economy to grow by 4.6 percent.
In recent months, Spanish household spending has suffered from increasing inflation, which reached a high of 6.5 percent in December due to surging energy prices, which is being experienced by countries worldwide. According to a Spanish think tank, inflation is expected to slow slightly in 2022 but remain at a high of around 3.5 percent, while growth in the economy should accelerate to 5.6 percent, allowing for the losses of 2020 to be finally reversed.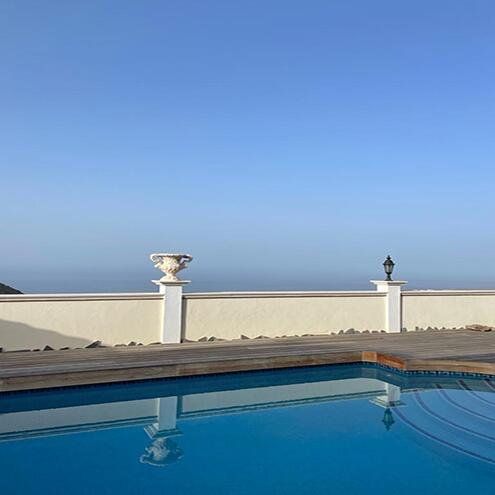 Whatever your query, the Tenerife Property Shop Team are here to help in any way possible.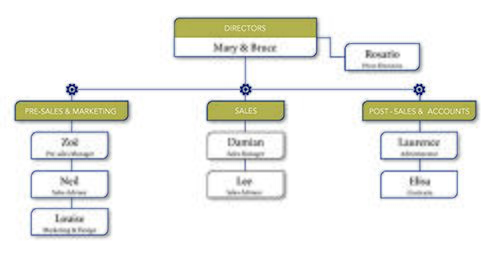 We, as a company, are very proud of our reputation, and nothing pleases us more than the wonderful feedback and testimonials we receive from many satisfied clients, both vendors and purchasers. Below you can see two new Google reviews we have just received this week, and you can view many more on our Website, Google & Facebook.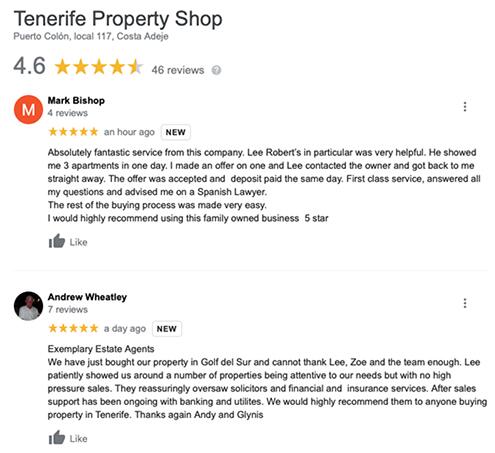 Click to view more Testimonials on our Website

We hope you enjoyed our newsletter, and found our information of interest.
We will be back again soon, in the meantime, please stay safe.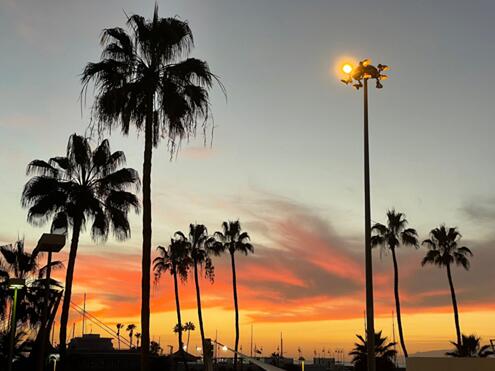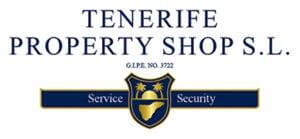 Tel: 0034 922 714 700
From UK: 0845 862 1634