Ian Guthrie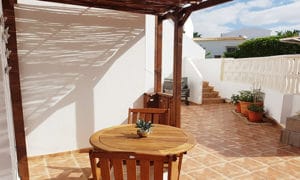 Thank you!
Hi Damian,
Thank you ever so much for the outstanding level of service and support you and your colleagues provided recently to assist with our holiday home purchase in Tenerife.
Our journey began 12 months before when we reached out to you online, after a recommendation from an acquaintance of my wife in the U.K.
From the moment we engaged till the point we left the island to return to the U.K., the level of engagement was outstanding. You were on hand, day and night, by telephone, email and social media, to answer our countless questions both honestly and reassuringly. Whilst on that particular occasion our hunt was unsuccessful, you never once showed any disappointment or less interest in us as potential clients.
Roll forward 12 months to May 2019, because of the high quality service you had previously provided, we reached out to you again. You spent the best part of two days with us - ignoring the countless hours responding to emails and questions we sent via WhatsApp - and having listened to our specific requirements we identified the ideal property.
Writing this note to you in July 2019 as a proud owner of a holiday home on the island I wanted again to thank you and your colleagues for a truly best-in-class, no world class, service. You genuinely couldn't have done anymore to support us through this process and if this is the level of service you consistently deliver then the Tenerife Property Shop deserves its status as the premier agency on the island.
Your loyal client,
Ian